Veneto was a land of many watercorses, among many contradictions. Paduans and Scaligeri quite often fought over the possession of Vicenza. The Vicentians diverted the river
Bacchiglione
course to Longare and so deprived Padua of one of its main water sources: the main waterway, which meant the blocking of trades and prevented transport of millstones, both very important for the city.
Vicenza tried to find its own waterway to the lagoon without subduing to Padua.
In 1143 the
Canale Bisatto
, was excavated: fed by the Bacchiglione, it started in Longare and continued up to the bridge of Barbarano, connecting the small fluvial harbours south of the province of Padua, such as Albettone,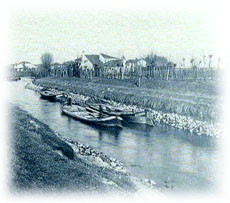 Vò Vecchio, Lozzo Atestino, Este and Monselice; from here using the Pernumia route people reached the Pontelongo Canal and Chioggia. This way, Padua was avoided and the trades of Vicenza and the south of Padova could go straight to the sea.
In 1314 the Paduans built
Brentella
, a canal connecting the rivers Brenta and Bacchiglione. From the north of the city- Limena- part of the water of Brenta were deviated into the inferior brunch of the river entering the south of the city.
Therefore, when their enemies blocked Bacchiglione, the Paduans used the Brenta waters for its new artificial canal.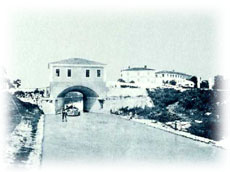 Being used to fill rivers, the Brentella waterway had to be contantly checked to avoid overfloodings when the water level of the Brenta river was too high, a hydraulic barrier (called "
Colmelloni
" ) was built in Limena to regulate the level- hight of the river. Because of its importance, a fortress was built on the right bank of Brentella; the small castle was destroyed in 1509 during the Cambrai War.
So, form the military point, the canal was turned into an important waterway and towards the half of the nineteenth century about 1500 boats regularly used it.
Today, this canal is a
naturalistic route
and it can be navigated by small boats.