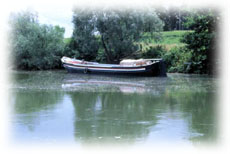 The river
Bacchiglione
was the old waterway between Vicenza and Padua. It has its source in the convergence of short mountainous streams and springs, it flows through Vicenza, Montegalda and Trambacche, the seat of old castles, passes St Martino Castle, to reach Creola, and then, in Tencarola, just outside Padua, collects the waters of the Brentella Canal.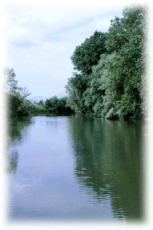 Part of it enters the town and part of it floods into the Battaglia Canal, 18 kilometres long excavated by the Paduans in the twelfth century to connect Padua and Monselice and the waters of the southern province of Padua.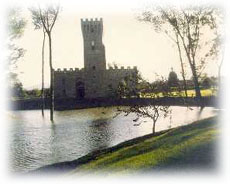 Today, the navigable part of the river from Padua to Creola constitutes a enchanting rich fluvial naturalistic route.
Not far from the river, there is
St Martino Castle
, the seat of the
Bacchiglione Museum
. Starting from
Bassanello
, an old Paduan river village, the cruise continues in the
green vegetation
beyond Rari Nantes', Canottieri's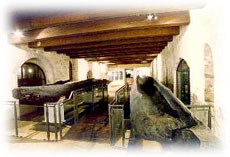 and other rowing clubs' docks, and the boat is then swallowed up by
luxurious and shadowy green
.
Beyond the convergence with the Canale Brentella the boat proceeds slowly to Tencarola,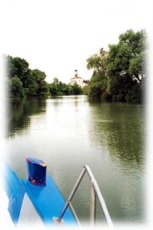 the seat of an old mill and a fluvial harbour, once used for the loading of stones from the
Euganean Hills
. Sometimes, teams of of canoeists and rowers accompanied the navigation. Sinuous and
swerving bights and banks full of willows
, poplars, platens and pagoda trees accompany here the river journey. Among the trees and the vegetation, romantic and
valuable bell towers
of old parishes witness the long presence of man. A bicycle ride or a pleasant walk can lead to an old Venetian Villa at Montecchia or to the
Bacchiglione Museum
, where
roman ancient pirogues
and other testimonies of old river civilizations are kept.
There is the chance to taste the wine from the Euganean Hills and the local cuisine, which further enrich this already enjoyable journey.