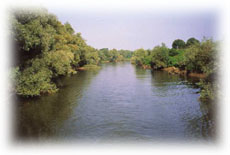 Until the second half of the twelfth century, the fluvial link from Padua to Chioggia, a famous route for the salt trade, was the narrow and winding Roncajette Canal. It was the most frequented waterway used by inland tradesmen travelling to Venice and the Lagoon and also a military route watched over by soldiers with weapons in boats for the defence of the
Bovolenta Castle
.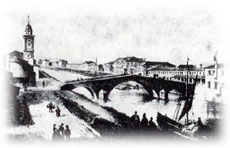 Noble families, monasteries and nunneries rose along that waterway to control their land and huge estates, and then transported their farm produce to Padua or the Lagoon by water.
In 1201 the excavation of the
Battaglia Canal
and in 1209 that of the Piovego Canal the fluvial traffic from and to Venice spontaneously moved to the Brenta Riviera, a shorter waterway easier to navigate.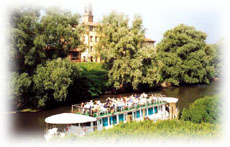 Whereas the fluvial traffic to Chioggia was diverted towards Padova-Battaglia-Bovolenta- Pontelongo, the shorter waterway that connect the Euganean Hills to the Lagoon.
Patrician houses and Benedictine monasteries are still there to testify the importance of the canal for trade exchanges.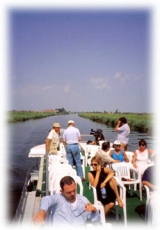 By the waterway, in 1447, in a small monastery run by friars of Saint Anthony, Donatello melt and made some of the
bronzes now in the Basilica del Santo in Padua
.
Today, the canal is a naturalistic waterway, scenecally rich in woods and luxurious vegetation, in
extensive drained fields
and in watercourses which meet and cross, quietly flowing into the Lagoon at Chioggia and Southern Venice. The cruise starts in
Battaglia Terme
, crossing the
monumental Lock
allowing the descending of a 7-metre high water slope and continues among willows, pagoda trees and plane-trees, through Bovolenta, an ancient military stronghold and fluvial harbour at the convergence of two watercourses: Roncajette and Vingenzone. Then, there is
Pontelongo
, once a very crowded and important fluvial harbour and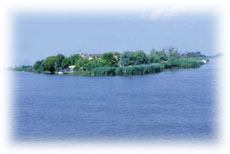 Correzzola, whose Benedictine Monastery
, an imposing architectural site conceived for the control and exploitation of the surrounding drained countryside, still stands out.
The cruise moves in green surroundings, passing beyond Ca' Bianca, the seat of
powerful draining pumps
used to drain the land, Ca' Pasqua, where the main branch of the Brenta river meets the Pontelongo Canal (Bacchiglione), to the
Conca di Brondolo
and
Chioggia
where a the cruise will take you to the
Southern Lagoon of Venice
.